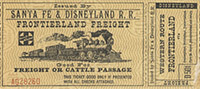 British Rail offer a range of train tickets, including several discount offers. You can also travel by train with animals and bicycles.
Different types of train ticket
Advance
Sold in limited numbers up to twelve weeks before the day of travel and subject to availability. These tickets are only valid on the date and train specified.
Off-Peak
Travel off-peak for cheaper fares when trains are less busy. You will have to travel at certain times, and sometimes on specific routes or operators.
Anytime
Available as single or day-return tickets. Your outward and return journey dates are flexible.
Season
Unlimited travel between two stations for a specified period. Season tickets are usually available for periods of one week, month or year.
Rovers and Rangers
Unlimited travel within a specified area, though there may be time restrictions on when you can travel. Some include associated bus and/or ferry services. Ranger tickets are generally valid for one day, Rover tickets for 7 or 14 days.
Discounts
Railcards
Railcards offer one-third off most off-peak rail travel and are valid for a year. There 7 railcards including: two named people travelling; for people aged 16 – 25 years or 26+ in full time education; for adults travelling with children aged 5-15; for seniors; for disabled persons; for members of the Regular Armed Forces; and for travel in the London and South East area
GroupSave
GroupSave tickets allow 3-9 people travelling together to save one-third when travelling off-peak.
Group Travel
Discounts for groups (usually 10+ people) travelling together must be booked in advance with the train company.
BritRail pass
BritRail's range of rail passes offer international visitors unlimited train trips in the UK. The 8 BritRail passes include: UK; England; London Plus; South West; Spirit of Scotland; Central Scotland; Scottish Highlands; and South West.
Travelling with animals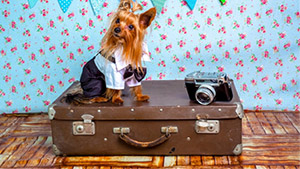 Dogs must be kept on a leash at all times, unless small enough to be contained in a basket/crate. All other small animals must also be carried in an enclosed, rigid, crate.
Travelling with bicycles
Folded cycles are generally carried free of charge and without restriction, though some services have additional requirements. For example, C2C and Stansted Express require folding bicycles be transported in a protective carrying case. On East Coast, East Midlands Trains and South West Trains bicycles are allowed at no charge if stowed as luggage. London Overground, limits one bicycle per vestibule area at peak times.