There are a few trains available, these can be for local destination or for long range haul.
Some trains operate locally in a depot and use shunting locomotives, also known as yard pilots are small engines that can be found around depots to move small trains around, they can also be seen at yards and stations for placing wagons into different positions, or moving coaches into different platforms.
Railways - Scottish Railways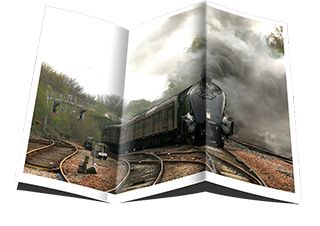 There are many different types of railways. Today there are standards that are used throughout the country to ensure ease of operation of all trains across all tracks.
Scottish railway lines
The Waverley route is perhaps the most sadly missed of all the lines that were closed in the "Beeching Era" of the 1960s. Running through some of the most beautiful scenery in the British Isles, the Waverley Route served the people of the Borders for more than 100 years until its closure in 1969.
A long battle
The battle to save the route from closure was hard fought and gallant, however this battle was eventually lost and a Great British railway route died in January 1969. This site aims to recall some of the history of that route, as well as keep members up-to-date with developments to try and bring the railway back to the Borders.
Our aims are to enlist public support for the reinstatement of the rail link to the Borders area of Southern Scotland and Northern England. To raise the awareness of the need for the need for rail within the Borders Community. To press for the rapid development of the rail link. But there are other ways to travel, namely by sea and by air, whether you're going on holiday or moving possessions abroad.
Our goals are also to make the views of the Population of the Borders known to the Ministers and Civil Servants responsible for the transport policy regarding the Borders. To encourage and support both business and private projects to reinstate the rail link.